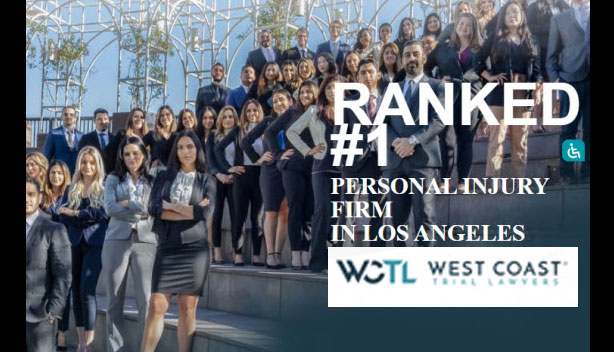 West Coast Trial Lawyers
Special Instructions and Photo Credit
We have 10 locations to serve you, Visit our website.
When you have been injured in an accident, choosing the right law firm is a difficult undertaking. Your selection is crucial and can make or break your personal injury case. At West Coast Trial Lawyers, we have helped injury victims across the state of California recover compensation for their injuries.
Car Accidents
Negligence is the most common culprit in a car accident. However, that will not always be the case. Car accidents can be caused by many circumstances. It is also possible for more than one driver to be found guilty of negligence in causing an accident. Furthermore, many car accidents are not caused by anyone's negligence. A Los Angeles car accident attorney can help determine if you are entitled to damages, whether your accident was caused by negligence, defective car parts, poorly maintained roads, or even bad weather.
Uber/Lyft Accidents
Despite their many charms, including convenience and ease, ridesharing accidents will happen. Ridesharing policies and laws are evolving, and it's important to understand your rights if you were injured in an Uber/Lyft-related accident. These cases include complex factors, such as whether a driver was logged into the app when the accident occurred. Further complicating issues of liability is the passing of AB-5. We strongly recommend consulting with an experienced Los Angeles Uber/Lyft attorney if you suffered injuries as a result of a ridesharing accident and wish to file a personal injury claim.
Wrongful Death
If you experienced the sudden loss of a loved one, please accept our condolences. It is normal to have many questions, concerns, and stresses at this time. Experiencing the wrongful death of a loved is one of the most tragic things anyone can experience, especially when negligence or a defective product caused your loved one's death. Our team of wrongful death attorneys are here to handle your wrongful death claim with dignity and respect. We will ensure that you recover all the damages you are entitled to on behalf of your loved one.
Love our business by sharing
They sent us to real specialists and Drs. They were/are ALWAYS available with EVERY call and every question! Even after normal business hours... They always made time for us! Even calls of concern before and after appointments and surgeries! They truly care for their clients' best interest as if we were family. They are by far the most personable, best group of professionals I have ever encountered in my 40 years of life!
I loved the personal relationship they established with me. It made me feel like I wasn't just another client but instead, I was someone that they cared about and wanted to get adequate compensation for. They took care of EVERYTHING (literally everything. I had nothing to worry about after meeting with them) for my case and ended up settling the case for much more than I expected. I HIGHLY recommend WCTL especially for people who are hesitant about dealing with personal injury lawyers.
I'm more than satisfied with the level of professionalism and my experience with West Coast Trial Lawyers. When I called for a free consultation, I spoke with one of the team members so that I could explain my case to her. Even though it wasn't the type of case their firm specialized in, the lady I was speaking to was so professional and helpful, and she referred me to another firm that could help me with my particular situation. This kind of care and respect, even for people they're just helping guide to the right place, really stood out to me.
A network website with social media sharing where "businesses work together building traffic.!
** The Power of Social Media Networking **
Register
It is free and easy. Click register, then verify your email. Login to the admin panel and create your listing.
REGISTER
Promote your Specials
Add specials or menu items with a photo to your listing. Also highlight your live music and special events.
Want to be featured on our top 10 website?
For only $300 for 1 year (12 months), you will be part of the top ten network.
Related Businesses and Deals