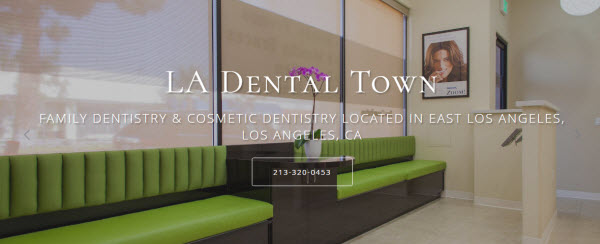 LA Dental Town
Business Hours
Monday8:00 am - 5:00 pm Tuesday8:00 am - 5:00 pm Wednesday8:00 am - 5:00 pm Thursday8:00 am - 5:00 pm Friday8:00 am - 5:00 pm
The dentists at LA Dental Town in East Los Angeles emphasize patient comfort and staying up-to-date with the latest advances in dental technology and treatments. This allows the team of skilled general, family, and cosmetic dentists to offer patients of all ages the latest and most comprehensive array of dental services. The team has a wide range of experience and specializations, including restorative dental treatments and surgical procedures, to best serve individual patient needs.
Love our business by sharing
Amazing service, super professional staff and environment.
My experience at L.A Dental Town was great, the staff is great.
A network website with social media sharing where "businesses work together building traffic.!
** The Power of Social Media Networking **
Register
It is free and easy. Click register, then verify your email. Login to the admin panel and create your listing.
REGISTER
Promote your Specials
Add specials or menu items with a photo to your listing. Also highlight your live music and special events.
Want to be featured on our top 10 website?
For only $300 for 1 year (12 months), you will be part of the top ten network.
Related Businesses and Deals